Born in small-town Ohio, author Jeanne Charters is a veteran of the broadcast television industry. The former Vice President of Marketing for Viacom TV began her career in radio and TV marketing, where she proved to be an expert at writing and producing effective television campaigns.
Her talents caught the eye of Viacom Television, and when they approached her with the position of Vice President of Marketing, she jumped at the opportunity. She would eventually open her own broadcast ad agency, Charters Marketing.
For years, she traveled to television stations from New York to Hawaii, producing and placing television and radio campaigns for the Make-A-Wish Foundation and other clients.
Charters grew up believing she'd be a stay-at-home mom and live in her hometown for the rest of her life, but life threw her curveballs. When her first husband took a job in Chicago, Charters experienced her first culture shock. Many more would follow,
After four children and a divorce, Charters ended up in Albany, New York, where she met and married Matt Restivo, her husband of 35 years and counting. When it came time to retire, Jeanne and Matt moved to Asheville, NC.
The writing bug had bitten Jeanne as a child, but she ignored the itch until her girls were educated. Then she started writing in earnest: columns for magazines and newspapers and finally, novels.
Jeanne says, "People sometimes wonder how a character surfaces in a writer's mind. 'Where did she come from anyway?
"For me, Mary Boland (main protagonist of Shanty Gold) thundered onto the page after a wise teacher told me to 'write what you don't know…about what you do know.' That was the kicker I needed.
"I heard her magical name throughout my Irish-American childhood from my mother and aunts. She was my great-grandmother.  There were no pictures of her and no records of her accomplishments, but she came to me in dreams…a frisky young girl with curly red hair, riding her horse along the Irish seacoast.
"'Tell my story,' she whispered. As years passed, that whisper became a roar. That's how Mary was born.
"In her initial iteration, Mary Boland was the first of a four-generation novel called Daughters of Famine. Writing class instructors and published authors alike told me, 'Each of these women deserves her own book.' They were right.
"So, I started over and told Mary's story in Shanty Gold. I hope you enjoy meeting her. She's a corker!  The next story in the series, about Mary's daughter, is now written and and is called Lace Curtain."
….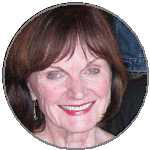 Jeanne Charters writes about the business of living your life to the fullest. Over the years through her magazine columns, books and blog posts, she has sought to help other women face life's challenges through humor, strength and perseverance. To learn more about Jeanne and her latest works, we invite you to > join her weekly newsletter.
….