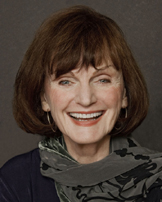 "Jeanne Charters is a great storyteller…"
Praise and Awards for Jeanne's Books & Columns
Lace Curtain – Book 2 in the Daughters of Ireland series, a follow-up to her Irish-American historical novel Shanty Gold. See what readers are saying about Jeanne's newest book.
Shanty Gold – an Irish-American historical novel for mature young adults, their parents and grandparents. See what readers, critics and book bloggers have to say about Jeanne's debut novel.
Funny, isn't it? – The Book: Ms. Charters' book of her best columns, illustrated by noted North Carolina artist, Marie Hudson, of Asheville, NC. Available at these booksellers.
Clothes Lines: A compilation of women's writings from across the state and country. Jeanne Charters was honored to be included by Editors Celia H. Miles and Nancy Dillingham. Available at these booksellers.
Columnist: Jeanne writes her popular columns under the title Funny, isn't it? at WNC Woman magazine Her work has appeared in most of the issues of the magazine for the past 12 years. Check out her columns here.
Broadcasting: Adopt an Angel for Make-A-Wish…This campaign ran in markets from New York City to Hawaii for 17 years. Ms. Charters was the sole writer, producer, and director of all television and radio commercials and PSA's relative to it. Over five million dollars was raised to benefit children with life-threatening illnesses.
Awards: Adopt an Angel for Make-A-Wish…Telly, two consecutive years and the Gold Medal from the New York State Broadcasters Association for Best Public Service Campaign in the state of New York.