"The Daughters of Ireland Saga Continues…"
It's just after the end of the Civil War…
Mary Boland's daughter, Nellie has grown up as "lace-curtain Irish" in a middle-class lifestyle.
But she resents her immigrant mother's constant hints and reminders that she should be grateful to have enough food to eat and a solid roof over her head.
Nellie has her own set of problems…
A jealous friend's lie gets her expelled from school, where her dreams of a some day becoming a teacher are dashed.
Confused yet defiant, she runs away and joins a circus.
She quickly discovers that the circus's "fun and games" atmosphere have serious consequences, when sexy Sean, the man of her dreams betrays her.
Will Nellie learn that, like her mother, every Irish girl needs a bit of Banshee in her?
Will a journey to Ireland help her understand that a man who can be stolen, is not a man worth having?
Lace Curtain is coming in March 2019.
….
Shanty Gold: "A Great Book on the Irish Immigrant Experience"
 Shanty Gold, the first book in the Daughters of Ireland trilogy, is now available as a Kindle version & a trade paperback.
What readers are saying about Shanty Gold:
"Loved the story. Characters are engaging and interesting. History elements enrich the story. Totally enjoyable read."
"This book was riveting and hard to put down despite some raw and explicit descriptions of life on the immigrants' boat coming to America."
"Just finished Shanty Gold—absolutely loved this book. Although I do enjoy reading from many genres, historical fiction tends to be something I haven't included as much and this just changed that for me. Enjoyed this story straight from the first page." 
So far, Shanty Gold has been awarded all five-star ratings on Amazon. (Oops, just got a four-star rating. That's okay. I'll take it.) See book reviews here.
I absolutely love reading reviews where people say, "I loved this book," "truly cinematic," "It hooked me in the first chapter." That makes all the work worthwhile.
So, after you read Shanty Gold, do go on Amazon or Good Reads or on the website of your local, independent book store and give me a review. If it's not five stars, that's fine.
And if you'd like me to come to your local bookstore, tell them about Shanty Gold.
….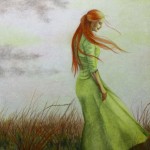 Not your grandma's typical historical read, Shanty Gold is a mile-a-minute page turner whose 370 pages take its heroine, Mary Boland,  from her early teens to her 17th birthday.
When we meet Mary, she has just buried her mother and sister, who have perished during the Great Irish Famine.
Starving and grieving, the thirteen-year-old girl summons the angels of her childhood and the blood of Banshee ancestors to escape the same fate.
Quaking with fear, she boards a ship to Boston to seek her beloved Da.  On The Pilgrims Dandy, a coffin ship filled with death and despair,
Mary finds a spirit brother—Kamua Okafor, a slave boy from Africa. With his help, she vanquishes starvation, rape, discrimination, sexism, and illiteracy to accomplish her destiny.  And at age 16, she falls in love with a blue-eyed boy.
But that is just the beginning of Mary's story…
Check this website often to learn where and when you can buy Shanty Gold. The second and third books of the Daughters of Ireland trilogy are  Lace Curtain and Silk Stocking.
….
Read more of Jeanne Charters work in her book Funny, isn't it?, a compilation of her columns from WNC Woman magazine and in the book Clothes Lines, a wonderful anthology of the top female writers in North Carolina.
Want to learn more? To receive an update from Jeanne's weekly blog post, please enter your best email address in the signup box below in the footer below.
And please take a moment and let me know what you're thinking and if you like my blog.