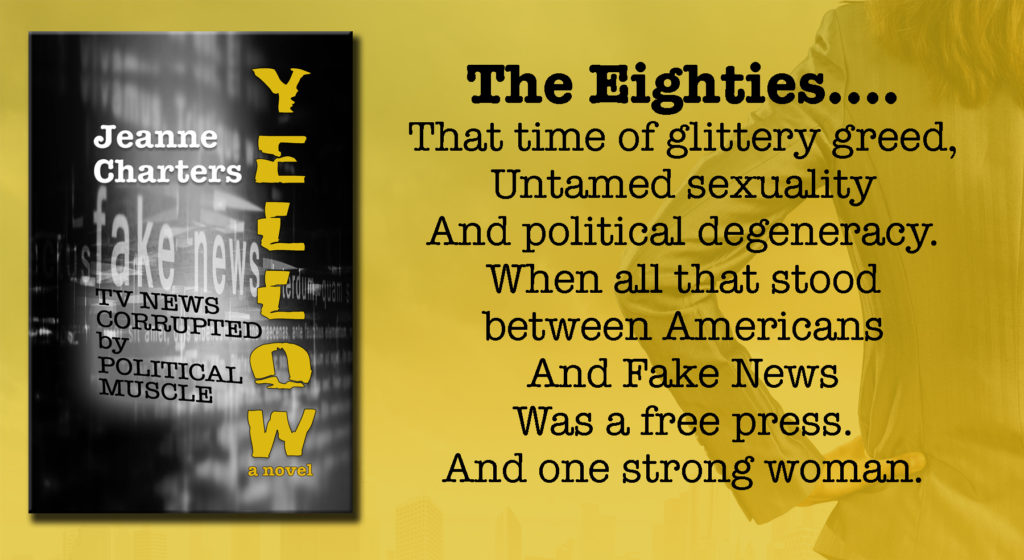 Before MeToo; Before Fake News; Before tribal politics, the seeds were being planted…
Yellow takes readers into a newsroom of the 1980s at the highest-rated television station in Pennsylvania.
Finley Smith is its news director.
When she learns from her top reporter that the Pennsylvania Governor has hired a mob-owned construction company to repair a bridge in Pittsburgh, she plans to report it. Her unscrupulous station manager orders her to "leave it alone."
But when a reporter's probe reveals dangerous truths about the construction company's shoddy work, Finley opts to buck the system and run the stories.
This sets in motion a deadly dispute.
Although Finley's reputation is irreproachable, making it difficult to fire her, the station manager and corporate president conspire to have her eliminated.
Between the covers of Yellow, Charters expertly weaves a suspenseful web of ambition-fueled deceit, financial desperation and corruption that ultimately culminates in a grisly crime.
Will Finley Smith emerge with the truth — and her life — intact?
….
As the lone female executive at a major television corporation, Jeanne Charters saw all the inside
dirt of the broadcast business during the Mad Men Eighties.
She didn't know then that one day those secrets would become the basis of her novel, YELLOW—a riveting story of greed, deceit, and corruption which climaxes in a grisly murder.
A veteran of broadcast television, Charters draws from her own experiences to tell this story that could be taken from today's headlines…lending authenticity to each and every page.
From the streets of Philadelphia to the gilded towers of Manhattan, YELLOW takes you on an exciting roller-coaster ride that readers "can't put down".  YELLOW Reviews – What readers are saying.
AVAILABLE NOW >  Amazon | Kindle eBook | Barnes & Noble
….
Other Books by Jeanne Charter