People ask how long it took me to write Shanty Gold. It's roughly 380 pages and covers four pivotal years in the life of Miss Mary Boland, Irish immigrant.
Believe it or not, it's a tough question to answer. I began writing a novel in earnest roughly ten years ago. It was called Daughters of Famine. It covered four women's lifetimes. The first was Mary, a young émigré from Ireland who arrived in Boston in 1849.
The following three women were her descendants—daughter, granddaughter, and great granddaughter.
But it was too long, too jammed, too many characters to sustain the reader's interest. At least that's what people told me. People whom I trusted. And I think they were right.
Next, I wrote a novel called The Wrong Woman, a corporate conspiracy tale about a principled news director pitted against a largely unprincipled owning corporation.
I queried agents on that one for a while and then gave up.
When I completed Shanty Gold, I knew I finally got it right. My agent and publisher agreed. I can't wait for you to read it. Look for my readings on this blog. They'll be starting in August.
....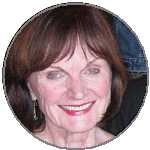 Jeanne Charters writes about the business of living your life to the fullest. Over the years through her magazine columns, books and blog posts, she has sought to help other women face life's challenges through humor, strength and perseverance.
Did you enjoy this post? Why not subscribe to Jeanne's weekly newsletter and get all her new posts sent directly to your inbox.
....