What Readers are Saying About YELLOW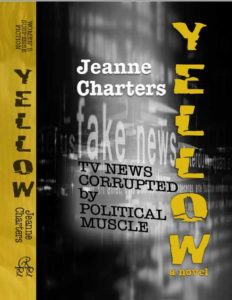 "Yellow is a terrific read. An intriguing story with compelling characters. It takes you into the television news room of the 80's where women struggled for respect and politics was beginning to seep into the news creating the classic sales vs. news tension. The author writes from experience as a former local television exec. As I read it, I kept thinking it would make a great movie!" ~ A. Bellcourt
"What happens when a TV station slants the news so it can protect a powerful politician? When employees join together to protect sound journalism? From her insider experience, Charters takes us into corporate media of the 1980s and leaves us wondering how similar today's news business might be. For me the fast pace and compelling characters made this a great airport read." ~ N. Poling
"This adventure features short chapters which end abruptly, thrusting readers into suspense about how a character can surmount a hurdle. Immediately in a fresh scene, as in movie watching, readers become embroiled in a growing tangle of dilemmas.
Vivid descriptions transport us to hospitals, luxurious hotels, broadcasting studios, New York side streets, bedrooms, kitchens, and the Pennsylvania countryside.
Background traumas reveal tantalizing bits which garner a few shreds of sympathy for villains we love to hate. The ethical people behave with some quirks and ill-fated decisions, making them thoroughly human.
Even her fans who love historical novels by Jeanne Charters will find the contemporary issues in Yellow bursting with conflict, romance, and surprises galore. The pace slows only at the conclusion, like the glide at the end of a rollercoaster ride. I hated to get off." ~ Mona Miracle