In 1849, when Shanty Gold's 13-year-old protagonist Mary Boland sailed off from Ireland on The Pilgrim's Dandy, the Cork Harbor was in the midst of an identity crisis. Because in 1849, Queen Victoria visited Ireland and the British changed the name of the port from Cove to Queenstown in her honor.
The Irish resented that British intrusion on their beloved Cove Harbor and when they gained freedom from England in 1922, one of the first actions they took was to change the harbor's name to Cobh which is Gaelic for Cove.
This deep-water port had already experienced many appellations during its existence. Legend has it that one of the first colonists of Ireland was Neimheidh, who landed at the port around 1,000 B.C. Later, it was known as Crich Liatháin because of the powerful Ui Liatháin who ruled in the area from late antiquity into the early 13th century.
Cove experienced rapid growth in the early 19th century. Its natural protection and harbor setting made it important as a tactical naval center, never more so than during the Napoleonic Wars between France and Britain.
Two tragedies marked this port during the 19th century. In April of 1912, the British ship, Titanic, sank, only days after leaving Queenstown, her last port of call. More than 1,500 men, women, and children perished following Titanic's collision with an iceberg. The Titanic Memorial in Cobh brought tears to my eyes when I saw it.
Another tragically notable ship will forever be associated with Queenstown/Cove/Cobh. In 1915, 1,198 passengers perished when the Cunard passenger liner, RMS Lusitania was sunk by a German U-boat off the coast of the harbor. The survivors and the casualties were brought into Queenstown, and 100 of them lie buried in the Old Church Cemetery in the center of town.
Mary Boland was not traveling by luxury liner.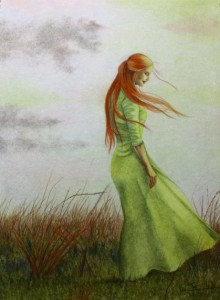 She was sold onto an infamous "coffin ship" by a woman she trusted to take care of her. Coffin ships were so named because of their lack of seaworthiness and because often, there was not enough food and water aboard to last the duration of the voyage. Since the ships were heavily insured, the owners just didn't care.
As an American of Irish descent, I've always been proud of the resilience and strength my ancestors demonstrated on these hellish voyages across the Atlantic. The memory of their courage has sustained me through the toughest times of my life. If they could survive those tragic hardships, I feel I can survive just about anything, too.