The Irish are not known for their cuisine. But if you can beat this cake for making guests jovial, I'll eat your yarmulke.
I credit Lulu O'Grady for it because she was an Irish tart in my hometown. When Lulu jumped in Buck Creek and killed herself, my mother thought it was over an affair with my father and almost left him.
Turns out poor old dad was innocent. Lulu was screwing the fire chief.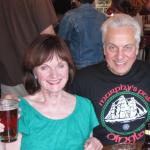 LULU O'GRADY'S IRISH-WHISKEY CAKE
1 BOX BUTTER CAKE MIX (DUNCAN HINES WORKS WELL)
1 PACKAGE INSTANT VANILLA PUDDING MIX
1 OZ. WHISKEY (IRISH PREFERRED)
½ CUP OIL
1 CUP MILK
1 CUP CHOPPED WALNUTS
4 EGGS
PREHEAT OVEN TO 350 DEGREES.   SPRAY A BUNDT OR TUBE PAN.
MIX TOGETHER CAKE MIX, PUDDING MIX, WHISKEY, OIL AND MILK.  ADD EGGS ONE AT A TIME, BEATING WELL AFTER EACH ADDITION.  FOLD IN NUTS.  BAKE 50-60 MINUTES.
GLAZE
½ CUP BUTTER, MELTED
¾ CUP SUGAR
½ CUP WHISKEY
PLACE ALL GLAZE INGREDIENTS IN A SAUCEPAN AND HEAT UNTIL SUGAR DISSOLVES.  POUR 2/3 CUP OF THE GLAZE OVER THE CAKE WHILE THE CAKE IS STILL IN THE BAKING PAN. LET COOL 15-20 MINUTES UNTIL GLAZE IS ABSORBED INTO CAKE.
RELEASE CAKE FROM PAN AND PLACE ON SERVING PLATE.  POUR REMAINING GLAZE OVER THE TOP, USING A PASTRY BRUSH.
SERVE, CHANTING LULU, LULU, LULU.