As you have probably heard, the Irish love a good toot! And what's a good toot without a good toast?
So, here are a few I've collected during my travels to the Emerald Isle. Some of them come from a book by Padraic O'Farrell.
Whiskey, you're the divil. You're leading me astray—
Over hills and mountains and to Americay.
You're sweeter, stronger, dacenter (decenter).
You're spunkier than tay (tea).
Oh whiskey, you're me darlin' and may be the death of me!
The following toasts come from the Irish Folklore Collection as quoted in Séamus ŎCatháin's book.
Here's health and prosperity to you and your posterity.
And them that doesn't drink with sincerity, that they be damned for all eternity.
Whiskey, drink divine! Why should drivellers bore us with the praise of wine?
When we have thee before us. (Uh, I like wine!)
Good health to your enemies' enemies.
Health to you and yours; to mine and ours.
If mine and ours ever come across you and yours, I hope that you and
yours will do as much for mine and ours as mine and ours have done for
you and yours. (Not recommended for late-night toasts).
And, of course, finally…..
Sláinte!
....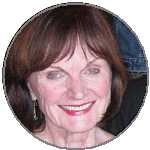 Jeanne Charters writes about the business of living your life to the fullest. Over the years through her magazine columns, books and blog posts, she has sought to help other women face life's challenges through humor, strength and perseverance.
Did you enjoy this post? Why not subscribe to Jeanne's weekly newsletter and get all her new posts sent directly to your inbox.
....