Okay, some of you have complained that you get a notice of a new post and then, when you click it, it's not there.
To fix this problem, I'm now sending out my email notices about blogs by MailChimp. Every Wednesday afternoon,
you'll get a notice of a new blog by me, but it'll say it's from MailChimp.
Don't freak out–it's not a scam. It's just me posing as MailChimp. If you're not getting these notices, check your Spam folder, please.
You can unsubscribe at any time. (But if you do, I'll cry.)
Jeanne
....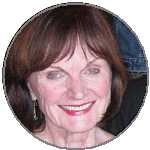 Jeanne Charters writes about the business of living your life to the fullest. Over the years through her magazine columns, books and blog posts, she has sought to help other women face life's challenges through humor, strength and perseverance.
Did you enjoy this post? Why not subscribe to Jeanne's weekly newsletter and get all her new posts sent directly to your inbox.
....