Okay, dear readers…I'm going to share my Kirkus Review with you in full. It's pretty good, but there is a criticism. I figure you who've stuck with me through my blogs all this time deserve to see it in full. For other purposes, I'll probably excerpt certain portions like everyone else does. Keep in Mind…Kirkus didn't give a totally glowing review to The Help either.Here you go:
An Irish immigrant forges a new life in a turbulent time in Charters' debut novel.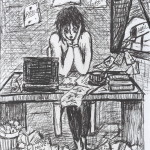 In 1849, 13-year-old Mary Boland is determined to fulfill the promise she made to her dying mother: leave the disease and despair of life in Ireland, locate her father in America, and give him the golden cross that Mary's mother gave her.
After Mary initially meets kind strangers who help her get to the coast, a devious Englishwoman tricks her onto The Pilgrim's Dandy, a "coffin ship" aboard which half the passengers are expected to die on the trans-Atlantic trip.
Onboard, the sailors brutally use and abuse Mary, her new friend Ceili, and the slave boy Kamua. Despite the atrocities they face on the voyage, Mary and Kam are able to start a new life in Boston, where Kam gets work as a delivery boy and Mary begins working in an Irish pub (Ceili isn't so lucky).
In time, they become a traveling medicine man and a midwife, respectively. As Mary tries to learn her father's fate and sort out her feelings for the handsome Daniel Kelly, she begins having run-ins with the dangerous and lecherous Shiv McGraw, a gangster with an iron grip on South Boston.
Mary must evade Shiv's clutches, discover the secrets of her Irish family, and protect the lives of her new Boston family as she tries to establish her new life. Charters interweaves many important topics—immigration, civil rights, women's rights—into her exciting novel. The narrative paints an evocative portrait of South Boston in the era of Irish immigration, and the supporting characters are particularly well-represented.
However, the novel struggles to find a consistent tone as it switches from scenes of rape to childish friendship to slapstick pranks without the scene-setting and worldbuilding that would make such drastic shifts make sense.
A gripping but uneven story of a young woman obtaining her independence in a new land…Kirkus Reviews