Who knew I needed an electronic media kit? Not me, but if you're a writer and want to get any press for your novel, you need one, too.
Said EMK must have a bio about you, plus a short bio about you, the cover of the book, pictures of you in various resolutions and information on appearances, readings, and any other books you've written. You should also include a brief synopsis of your novel.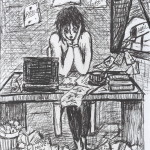 In my case, I also included my book video, but if you don't have one, it's not a deal breaker.
I learned about the media kit need at a conference. Also, in this day of instant accessibility and ease, I think it's wise to make it electronic.
That way, with the click of a mouse, any newspaper or magazine writer can access all they need to write an article. Easy peasy, right?
If you click https://jeannecharters.com/press-kit/ you can check out my electronic media kit. If you're a writer, I hope it helps you develop one for yourself.