I love the lilt of the names of Irish towns. For instance, there's one in County Cork called Clonakilty. It's one of the most delightful places I've ever been—great landscapes, marvelous pubs, scintillating music and dancing, and, of course, the people.
The people of Clonakilty are proud of local hero, Michael Collins, who was instrumental in the Irish War of Independence which raged from 1919-1921. He was killed just before Ireland declared her freedom in April, 1922.
In the middle of downtown Clonakilty, there's a statue of a "giant of a man" which Collins apparently was. He's handsome, well over six feet, and strong looking as an oak tree.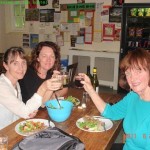 Perhaps you saw the movie Michael Collins which starred Liam Neeson in the title role and Aidan Quinn as Collins' best friend, Harry Boland. The movie had its premiere in Clonakilty and Liam Neeson was there, standing right beside the statue. I can't think of anyone else who could have captured the stature and soul of Michael Collins.
In a local pub in Clonakilty, a young bartender told me and my daughters chapter and verse about the Irish War of Independence. His pride shone from his eyes as he talked of Michael Collins and Harry Boland. This man was perhaps 25 years old, but it was clear that the legend of the great man had been handed down through the generations and would never die.
Clonakilty! Another magical place in Ireland.